A Future sans
Banks

Decentralized Finance

(DeFi)

Development

DeFi can be understood as an open financial environment wherein anyone can join, trade, and earn interest sans the dependency on a bank-like centralized entity. We at Skyach, equip you to make the most of decentralized finance token development and create an outcome-oriented secure business model that stands the test of time.
The World of
Finance

Before DeFi

Glaring irregularities in the current financial ecosystem have led us to question exactly how reliable it is. Despite your banker being devoid of flaws, it is a possibility that he or she would not take market hints into consideration and thereby put your assets at a great risk.

And, when we talk about global assets, it will eventually lead to massive losses. Also, the fact that not everyone has the accessibility to traditional financial ecosystem, a major chunk
of investors gets left out of primary markets.

Furthermore, the over-dependence on capital investors restricts your socio-economic effect.

With the help of decentralized financial currency development, institutions can give their models a facelift by addressing these issues:

Zero Accountability

Increased likelihood of Risks

Out-of-control Volatility

Overdue Transfers

Scams

Lack of Accessibility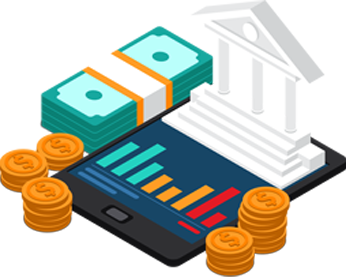 A World that
Embraces DeFi
DeFi equips financial services providers to take a chance and embrace decentralized Blockchain development to benefit from a product's all-encompassing re-creation. DeFi solutions make use of open-source protocols to offer enterprise-wide solutions that allow investors to enjoy full ownership of their assets and trade them in a clear milieu. In other words, DeFi drives financial engagements with the aid of Smart Contracts that are built by code.
This helps the model make use of benefits that a Blockchain environment has to offer, but with a finance twist. Unbanked individuals will also benefit with DeFi as it will offer them better access to major financial services. With just the help of an internet connection, you can manage your monetary functions without having to depend on others. Imagine a world where you lend loans to anyone. As you can see from this classic use case, there will be a massive drop in interest rates and a wider reach.
We at Skyach help you make an entirely democratic lending environment to let you hold and invest your assets by engaging directly with the other party. It is because of our Blockchain expertise that we are able to be a pioneer in decentralized finance token development.
Financial Apps

Governed Entirely by Code

The entire lending process gets simplified with DeFi's endless possibilities. The ownership can be steered towards the investors through the quick and agile platform. Thanks to several successful deployments under our belt, we are well-versed with conceiving DeFi services that are scalable, undisputable, and extremely inter-operable. Our end-to-end lending technology is in perfect sync with the industrial dream of rewriting the destiny of fintech. We are here to guide you as you take-in the pressures of a brutally growing fintech landscape and make the transition to decentralization. With the help of extremely responsive and arbitration-free DeFi platform development, we have guided organizations to navigate age-old setups. You will eventually be able to detach yourself capital market restrictions and pitch a completely transparent product which is open to subscription by anyone. Through our DeFi token services, you will be able to enjoy:
Cancelled-out risks & scams
Complete ownership of assets to users
Enhanced interoperability amongst stakeholders
Speedy node network for unlimited transactions
Innate customer loyalty and long-term associations
Our DeFi Hub of Excellence
Skyach gives you proven experience in the following DeFi services.

Exchange Development that is Decentralized
While crypto tokens are decentralized, their trading isn't and this negatively affects the implementation of Blockchain solutions. Our end-to-end decentralized exchange development addresses this gap. Our DeFi exchange software allows you to exchange cryptocurrencies without giving up the custody of your coins.

Consultation for Market-Making
We deploy the customer's self-adaptive and proprietary algorithms to offer you complete service solutions for the creation of financial markets. While this democratizes the liquidity, it also leaves room for model customization based on the customer's potential ROI.

Development of DeFi Tokenization
We boast a wide range of experience in DeFi token development that spreads across assets classes. Enterprises and investors will be able to leverage the gains through our strategic consulting by converting under-utilized crypto assets into fruitful investments. You can depend on us for complete DeFi token development of issuance platforms.

Open Lending Protocols
If you are an existing crypto platform, Skyach will give you the power to spread your lending services, motivate the community for trading in the native token, and thus limit the possible risks of additional supply on the exchange. With us, you enjoy decentralized finance coin development and a non-custodian practice to get interests on deposits.

Crypto Banking that is Decentralized
Owing to a transfer of value amongst two parties that is entirely decentralized and free of validation, we offer frictionless experience for your customers. Skyach's white-label payment mobile application comes in a ready-to-deploy form and takes care of banking elements like value holding, wallet creation, transactional analysis, value transfer, etc.

Fund Management that is Decentralized
Your crypto assets get Skyach's all-encompassing management with the aim of producing portfolios that perform well through exchange that is decentralized. Together with our investment-exchange experience and the proficiency in DeFi, you get to rid yourself of possible risks and traditional fees.

Lottery System Development with DeFi
We at Skyach remove the custodianship of the pooled capital to offer no-loss lottery tickets to participants. Over DeFi, the Skyach Lottery system lets you invest in other dApps and offer a major chunk of the earned interest to a winner that is randomly selected by smart contracts. Thus, giving assured, legal, and secure returns!

Derivatives over DeFi
Thanks to Skyach's experience in Derivatives market-making and development of dApp platform, you get to harness the massive potential of derivatives over DeFi with Skyach. Our dApps allow traders to hedge their investments and curb risks through direct peer-engagement via a democratic platform.

Development of DeFi Insurance System
Make a key addition to your end-to-end DeFi portfolio with DeFi Insurance! This comes in handy during uncontrollable liquidity requests that can cause the underlying smart contracts to explode. You get to limit potential risk with Skyach by engaging directly in insurance deals.

Development of DeFi Wallet
Imagine you being in complete control of your funds! With our DeFi wallet development services you can give this power to your users. An essential part of our decentralized wallet development is to utilize market-leading features to give you a safe and high-caliber DeFi crypto wallet.

Development of DeFi Lending Platform
The absence of bank accounts has led to 1.7 billion people with no access to traditional financial services. You get to tap into the potential of these 1.7 billion people with the crypto lending platform. Our business-oriented DeFi crypto lending platform development services give you DeFi crypto lending platforms with features that offer accessibility to your users.

Development of DeFi Staking Platform
We fortify staking platforms by using a robust system for reward management. This is all thanks to the complete solutions for DeFi staking platform development. Be it on TRON or a different blockchain, Skyach's customized DeFi staking platform development will offer services that cater to your business needs.
Why go for Skyach
Why Choose us

An Experience That is Exclusive
This is owing to the fact that Skyach established Blockchain development even before others had not even heard about it.

Team of Experts
You get to benefit from our 100+ Blockchain engineers that possess an in-depth knowledge of DeFi.

Outcomes That Are Business-centric
As we aim on platform-community growth and regular Return on Investment, you can take advantage of the tangible impact this has on your business.

Quick Development
We focus on your enterprise requirement while offering our ready-to-launch products and platforms.

End-to-end Support
The management of your product will be uninterrupted as we offer a wide range of post-delivery services.

Compliance and Regulations
You can be sure that all our deliverables are done keeping all regulatory jurisdictions in mind.
Talk to Our Experts
You are always welcome to have a friendly chat with us to discuss your business needs. We also offer free consultation catering to your business requirements.