Cryptocurrency Exchange
Development Company
Become a part of a family of over 50 clients who have benefitted from Skyach's white label solutions. We help you manage easy, quick, and secure trading of crypto tokens and coins.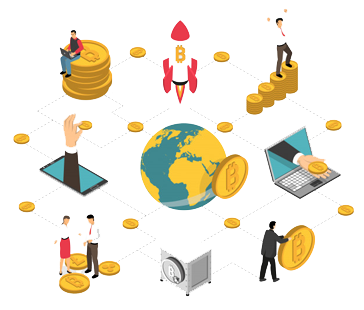 7 days to launch your White Label Crypto Exchange
100,000 TPS (Transactions Per Second)
Low-Latency
Bank-Grade Security
Architecture that can be scaled
You can seek answers to your queries, offer proposals, and enquire about price.
I want to…
White Label
Crypto Exchange

Development Services

A market-ready platform, white label exchange offers you a ready-to-launch back-end, along with an easy-to-customize front-end. It fast-tracks deployment while minimizing the cost of development. These factors aid businesses to make the most of the white label solution for a swift launch of their exchange platforms.

Start-ups and enterprises benefit from Skyach Solutions during the entire crypto exchange development process. In just a week's time, you can launch your crypto exchange, thanks to our white label crypto exchange development solution. Strong infrastructure and high-grade security are at the heart our white label exchange platform that ensures authenticated transactions that are speedy and secure. Furthermore, we are also specialists in producing a customized crypto exchange from the ground up.
Come aboard Skyach's crypto exchange development company to deploy your crypto exchange.
Our goal-driven and tech-based solutions are here to cater to your requirements.
The Glimpse of
White Label Exchange

Software

To provide world-class performance, our white label bitcoin exchange is equipped with the following characteristics.

The presence of a large number of TPS (Transactions per second)
The presence of a large number of TPS (Transactions per second)
The better the trading experience, the greater the TPS. Our white label exchange technology is extremely fast, capable of handling 100,000 transactions per second.

A dependable trading platform
A dependable trading platform
The powerful trading engine matches buy and sell orders with minimal latency. Designed order types include limit order, stop orders, and market orders.

A wallet with multiple currencies
A wallet with multiple currencies
The multi-cryptocurrency account (multi-signature and secured hot wallet) allows for secure cryptocurrency storage and transactions.

High Security with multiple layers
High Security with multiple layers
SSL installation and two-factor identification are advanced security technologies that provide enhanced login security, encrypted customer accessibility, and automated fund withdrawal restrictions.

Liquidity Alternative
Liquidity Alternative
When a buyer is unable to find the right selling, a secure API connection with other exchanges can help achieve liquidity.

Support for both crypto and fiat currencies
Support for both crypto and fiat currencies
Several currencies, including fiat and cryptocurrencies, are supported by our white label exchange. The exchange's scalable systems allow for the incorporation of any currency.

Verification and AML
Verification and AML
When removing a large amount of cryptocurrencies from the exchange's hot wallet, geography-based Transaction takes place for user identification verification.

Bonus and Referrals Program
Bonus and Referrals Program
The precisely developed referral and incentive programme feature enables users to receive rewards or incentives in an efficient way.

Assistance for several languages
Assistance for several languages
The bitcoin exchange's global reach is boosted by its multilingual assistance. The system's interface is optimized for conservative and liberal languages.

Automated Trading
Automated Trading
Even when the users are not available to trade, the smart bot acquires market opportunities and trades assets around the clock.

Innovative Charting Software
Innovative Charting Software
Customers can view transactions, positions, and annotate their trading strategy using a graphical trading experience with rich tracking features.

Staking
Staking
Customers can stake their crypto assets to receive substantial staking returns on top of their crypto investments, which can allow them to grow even more by compounding future benefits.
An Insight into our White Label Crypto Exchange
How your business benefits if you opt for
Skyach's Cryptocurrency Exchange

Script

Market readiness

Lessened cost of development

Simple customization

Promote as your own

Zero need for technical expertise

Tested and proven platform
Features of
Our Software

Is Going To Change Your Business Strategies
1
Client App Dashboard
Trading in cryptocurrency
Order book to track buy-sell prices of crypto assets on the exchange
Check hot wallet balance of crypto and fiat currencies
Check open orders
24-hour history of the order
Observe real-time prices filtered by time period
2
Administration Dashboard
Provides an overview of information, as well as buy-sell, send-receive, and customer transactions.
Provides a real-time view of cryptocurrency and exchange transactions that is time-filtered.
Shows the user's details as well as the status of their documents.
Shows the transaction ID, time stamp, amount, and description.
Shows the transaction ID, sender or receiver details such as email ID, description, and timing.
3
Requisition Book
Displays transactions awaiting Admin approval
Displays multiple cryptocurrency balances at a given instance
Provides an overview of cryptocurrency node balances for various cryptocurrencies
Gives a summary of the bid and ask tables, including the bid ID, amount, and quantity.
4
Our assistance includes
facility maintenance
production support
Upgrades
Security Updates
What Sets
Our Cryptocurrency

Exchange Apart

Margin Trading
When you make use of borrowed funds to leverage a trade, it opens a bigger position using smaller amount of funds. This is called Margin trading. When traders integrate an exchange with margin trading, they can borrow a particular volume of funds to enhance their order-size. This eventually results in maximum fruits from profitable trades.
Skyach gives you a margin trading exchange, together with strong process of risk management. This lets your users increase their profit from market swings. Your users can go short or long on several cryptocurrencies by up to multiple times with our advanced trading engine.
Main features:
Leverage (100:1)
Management of risk
Professional trading interface
Cutting-edge order types
Strong Admin Panel
Free structure
Multiple layers of security
Futures Contract
An agreement involving sellers and buyers to sell or buy assets at a future date for a fixed price is the basic definition of futures contracts (or Futures). They help traders gain leverage as they hedge other investments or lock-in gains while trading in the unpredictable crypto market.
Strengthen your crypto exchange with futures contracts so that your users can contemplate on the market position and minimize risks.
Main features:
Long-Short contracts
Management of risk
Position holding
High liquidity and tight spreads
Low latency and high throughout
Speedy time-to-market


Perpetual Contracts
What differentiates futures contracts and perpetual contracts, is the fact that the latter have no obligation to buy or sell an asset on a fixed date in the future. You can simple buy a contract if you believe it will reap you profits and sell if you feel the price of the asset will drop.
Your cryptocurrency exchange will get reinforced with perpetual contracts and your users will benefit from cutting-edge trading options and be a leader in the highly-competitive crypto market.
Main features:
Centralized
Trustworthy and Stable
High TPS
Powerful management of risk
Copy Trading
Copy Trading makes things easy for those who are new to investing as it lets you mimic the trades of professional traders and gain from their strategies.
Main features:
Multi-portfolio creation
Analysis of portfolio
Daily revenue calculation
Support for more than 200 trading pairs
Extended charts and tables


Spot Trading
Spot Trading is what catapulted Binance in the crypto market. You can follow that model with our spot trading options. Let our knowledgeable blockchain engineers bring-in a strong spot trading module into your cryptocurrency exchange This will allow the users of your platform to open and close orders instantaneously. Our ecosystem comes reinforced with multi-currency wallet. This further aids in safe storage of cryptocurrencies, comfortable deposits and withdrawals, institutional-grade security, low-latency transactions, and more.
Main features:
High TPS
Instant transactions
Location-based KYC verification
High liquidity options
Supported orders: Limit, Market, Stop Loss
OTC (Over-The-Counter) Trading
Integrate OTC trading into your crypto exchange to increase your revenue. You will also be able to do away with slippage and will be able to offer liquidity to your exchange users as you empower them to anonymously exchange huge amount of cryptocurrency. Go for our OTC trading module that allows for direct trades speedily.
Main features:
Supports multiple currencies
Escrow system that is contract-based
Manageable Fees
Support for P2P payments
High-grade security
Easy submission of Ad/Offer
Strong system of dispute management
Support for high-volume trades

Cryptocurrency Exchange

Development Services

To aid you in the adoption of cryptocurrency, we offer the below-mentioned services through our cryptocurrency and Bitcoin exchange platform development company.

White Label
Bitcoin Exchange Software
Our scalable and customized white label crypto exchange boasts features like multi-layer security, Hight TPS, client dashboard, and much more to offer your users a smart trading platform. Opt for our cost-efficient white label cryptocurrency exchange software to cut down on your development and deployment time. We deliver the software in mere 3 weeks so that you quickly enter the crypto market.

Development of White Label
Cryptocurrency Exchange
Securely store your wide range of crypto assets through Skyach semi-HD as it acts as an additional safety layer for an exchange that it is connected to, or can be leveraged as a unconnected app. Aspects such as multi-signature support, two-factor authentication, and biometric authentication further help to fortify your wallet.

Development of Security Token Exchange
You can trust Skyach completely to be your security token exchange development company. We are equipped to deal with all STO exchange platform development related aspects. From design to functionality, user experience to security, scalability to performance pertaining, we help you build a lucid roadmap with strategically aligned activities.

Development of Peer-to-Peer
Platform
Our P2P cryptocurrency exchange not only offers a trading environment that is interactive, secure, and flexible, but also one that provides intuitive interface for end users. Only after the seller confirms that the money equivalent to the value of crypto assets has been received, do the transactions get processed. Next, our Escrow system releases the crypto assets to the buyer to make sure that the trading experience is secure.

Development of Stablecoin
Peg your assets to steady the unstable cryptocurrency ecosystem. With our blockchain development company, you can benefit from custom development of stablecoins that works with all exchange platforms that support stablecoin trading. Features like marketing, whitepaper creation, stablecoin development, and consulting help ease your stablecoin journey.

Consultation for Blockchain
Skyach consulting is fueled by the most comprehensive collection of blockchain technology research, tools, and data in the world. Our blockchain development company India will enable you to build a roadmap to success with autonomous advice and aid from our trusted leaders.

Development of MLM Software (Blockchain Based)
You are in safe hands for riding the next wave of Multi-level Marketing (MLM) with Skyach's blockchain-based MLM platform development solutions. Our white label smart contract based MLM software is developed on Ethereum blockchain which ensures its decentralization, security, transparency, and autonomy. The unshakeable smart contract does tamper-proof calculations and helps you benefit from instantaneous transactions. Your users can thus confidently invest in an MLM project.

Development of Coin
You can reap benefits of Skyach's strategically-designed coin development services for your digital transactions, to aid in the growth of your business. We offer you a global delivery model with experts helping you to come up with smart strategies keeping strong use cases and implementation in mind. From conceptualization and coin development to deployment and marketing, you can bank upon our real-world experience as we offer you a wide range of services.

Development of Smart Contract
Smart Contract is here to let you automate your agreements, processes, and transactions along with enhancing security and minimizing costs. We offer everything from smart contract design and development to auditing and optimization. The smart contract development process leverages platforms like EOS, Ethereum, and Hyperledger.
Features of
Cryptocurrency Exchange
Wish to build an entire custom cryptocurrency exchange software from the ground up?
Are you an established organization or a start-up hoping to develop a customized crypto exchange from scratch? Look no further because Skyach is here to help launch your crypto business.
Apart from white label crypto exchange development, we are experts at developing custom exchange platforms from scratch. Leave the brainstorming, designing, development, testing, and deployment in our safe hands.
Be it margin trading, spot trading, or derivatives trading, our services are designed to align with your business needs.
What are the advantages of using our Crypto Exchange Development Services?
Why Choose us

The Technical Procedure
We solely work with Blockchain technology. We specialize in one thing and execute it really well.

Professional Team
We have more than 150 professionals who can help you delicately on your service, offer technological innovations, and even create communities and promotions.

Speedy Evolution
We create services that are customized to your target audience. A well-thought-out plan guarantees that development and implementation go efficiently and successfully.

Regulations and Conformity
We complete all of our projects in compliance with regulatory requirements.

Full Support
Our work does not end after the product is out. We provide a variety of post-delivery services so that you may focus on your business.

Outcomes that are focused on the business
We make a big difference by focusing on growing the platform ecosystem and ensuring constant ROI.
Why Choose skyach Software
Solutions for White Label
Cryptocurrency Exchange
Development
Hire us to
Talk to Our Experts
You are always welcome to have a friendly chat with us to discuss your business needs. We also offer free consultation catering to your business requirements.